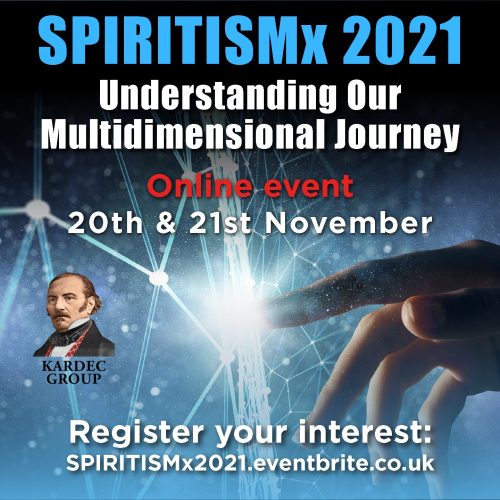 Dear friends,
We are delighted to inform you that the third edition of SPIRITISMx will be taking place in November.
SPIRITISMx is a seminar of 16 short talks by knowledgeable Spiritist lecturers from around the world, who will be sharing their knowledge, experience and insights to help us understand our multidimensional journey.
The speakers this year are:
– Alexander Moreira-Almeida (Brazil)
– Anahy Fonseca (Brazil)
– Anne Sinclair (UK)
– Charles Kempf (France)
– Dan Assisi (USA)
– Flavio Zanetti (USA)
– Frederico Gouveia (USA)
– Georgia Byrne (UK)
– Humberto Schubert (Brazil)
– Lolita Stein Johnson (UK)
– Luciane Sorrino (UK)
– Natasha Aragão (UK)
– Pekka Kaarakainen (Finland)
– Roberto Watanabe (Brazil)
– Sonia Araújo (Denmark)
– Suzana Simões (USA).
This is a free event, but we would love if you can register to show your support. Also, by registering you will be one of the first to know more about the event, plus you will have the chance of being entered into our prize draw.
Register your interest now:
All of us here at Kardec Group hope to see you online on 20th and 21st November for this great event.
You can find the videos from the previous SPIRITISMx events on the Kardec Group YouTube SPIRITISMx playlist.
Fraternal regards,
Kardec Group